Overview:
Learn how you can add real-time document collaboration capabilities to your software with PDFTrons SDK. In this 45 minute webinar, we'll go through examples on how our customers have seen big boosts in user productivity by enabling real-time conversations in documents across browsers and native applications.
What you will learn about:
How to quickly provide document collaboration on 30+ file types in your software or application
Give users the ability to collaborate simultaneously in a document: highlight text, circle content, add notes and reply to comments in real-time
Tie document collaboration into your users review and approval workflows with statuses (accept / reject document changes)
Restrict who can view, edit, annotate and respond to changes in a document with granular user permissions
Prevent sensitive documents from being shared by overlaying a userID, timestamp and IP address when accessing files
Let users collaborate on documents across all platforms: Web, Android, iOS, Windows & more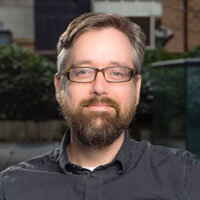 Aaron Gravesdale is a Solution Engineer for PDFTron Systems, Inc. with 15 years' experience developing and architecting solutions in document management and PDF technologies. Aaron has worked directly with a multitude of customers across a wide array of industries including AEC on design solutions built using PDFTron's toolset.
Solution Engineer @ PDFTron
Register now