About this webinar
What's new with the PDFTron SDK? Want to see how it works? Have a question you'd like answered by an expert? In this 45 minute webinar, we'll give a product overview, review product release notes and go over what's new & exciting, outline the most common use cases, and go over integration & setup options. Questions are welcome throughout the webinar, with a designated Q&A period at the end.
The webinar will cover:
Overview of the PDFTron SDK
Review of newly released features and functionality
Use cases and examples of how businesses are using the technology
Integration and setup options
Setting up your free trial
Q&A
Not able to attend this live demo? That's okay, sign-up anyway and we'll send you a link to the recorded session that you can watch any time.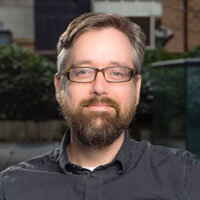 Aaron Gravesdale is a Solution Engineer for PDFTron Systems, Inc. He has total of 15 years' experience developing and architecting solutions in document management and PDF technologies. Aaron has worked directly with a multitude of customers to design solutions based around PDFTron's toolset.
Solution Engineer @ PDFTron
Register now