Check out what's new and unique in PDFTron's Fall 2022 Release, a major milestone in delivering key innovations in document workflows, compliance, and collaboration. There's a lot of ground to cover for just one post – including true, in-line PDF editing, a new signature solution, and an all-new BIM 3D solution.
Today, we're excited to showcase our very first integrated product update to the PDFTron platform. 
The Fall 2022 Release further innovates and strengthens our core offering. It's packed with new enhancements, solutions, and functionality for

WebViewer

, a JavaScript SDK for adding advanced document and digital content viewing, annotation, editing, and collaboration to any web application.
Key additions include: 
TLDR 
Edit with Ease:
Desktop-caliber PDF editing in a web application

Redaction of video and audio tracks in the same UI
Workflow Optimization:
New modes for comparing any two PDF, MS Office, and image files

Annotation improvements to streamline review & approvals

Intuitive Signature Walkthroughs and more to make custom signing processes smooth
New AEC Solution:
Now live: WebViewer BIM 3D!
Look forward to more releases like this in the future, as we bring you PDFTron product news in an easy-to-digest way, so you can quickly find what matters to your team and dive deeper at your own pace.  
Want to know what else we created for PDFTron's Q4? Please visit the

release homepage

to view all the important fall improvements.  
New Ways to Do More with Your Content in a Web App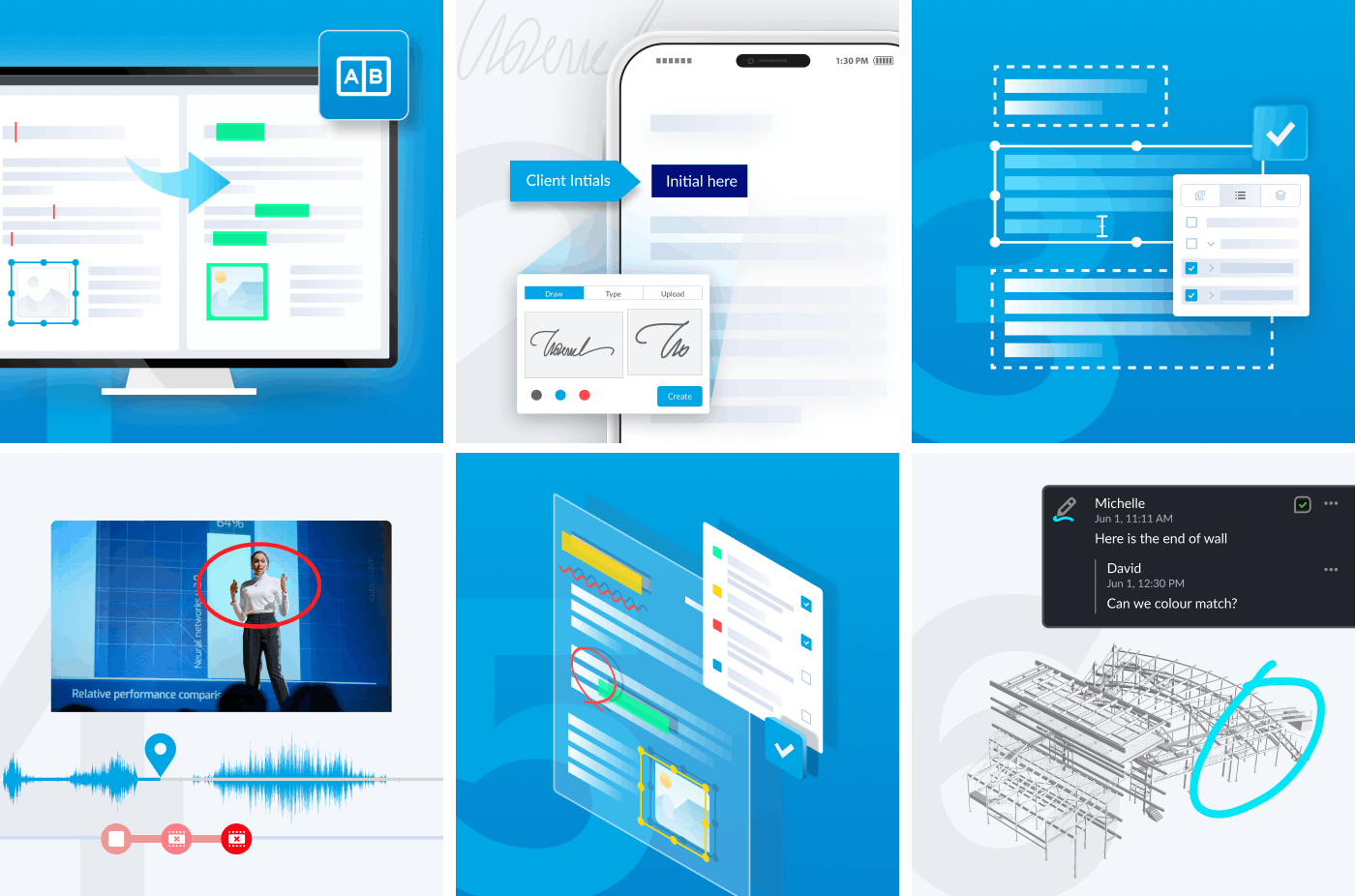 PDFTron's Fall 2022 Release extends the strong collaborative foundation of the WebViewer SDK platform, supporting PDF, MS Office, image, video, HTML, and CAD functionality. We added hundreds of changes to our production builds and rigorously tested them over the last few months for performance and security. On top of plenty of UX polish, we also added many customer-requested features to streamline workflows, with each change geared towards helping developers and their users achieve more in less time. And we continually improved existing feature reliability, to give you the most stable foundation on which to build innovative commercial products and cost-effective digital enterprise solutions. 
Here are the latest, big and unique additions for editing, workflows, and AEC.
The Best In-browser PDF Editor Gets Even Better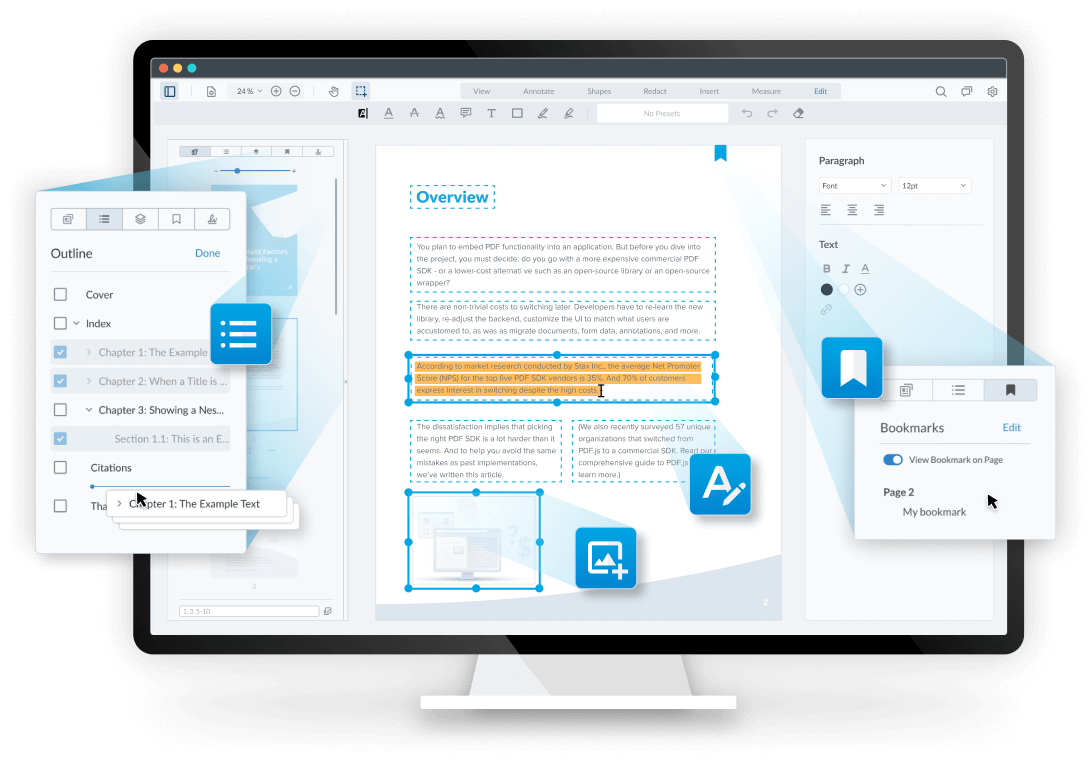 Since we launched a state-of-the-art, PDF editor engine earlier this year, we added substantial UX improvements, found in the latest WebViewer version 8.9.
New JS features represent a significant upgrade to the in-line PDF editor component, which enables users to edit PDF text and images with the same seamlessness of their professional desktop PDF editors – only without having to leave their web applications.
Editor improvements also include new bookmarking features and a new Table of Contents (ToC) editor and creator.
Discover more about the new

PDF editor updates

in our post and showcase

editor demo.
Protect Privacy with Video and Audio Track Redaction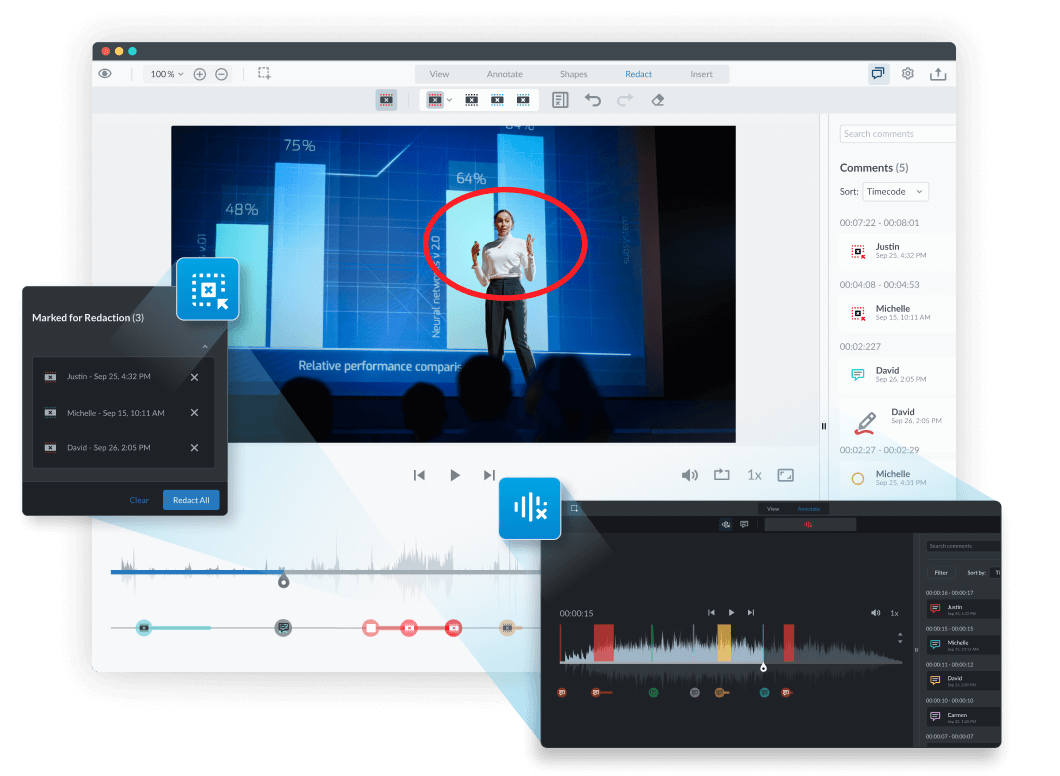 Next, we wanted to help organizations redact faster, whether for legal, privacy, compliance, or security reasons. So, we integrated features to speed up the redaction process across more types of digital content. 
We extended the JavaScript redaction across both audio and visual content simultaneously, making WebViewer the only solution to offer both video and audio redaction directly in a web application client.
Users can now easily redact video frames and parts of the audio track in a developer friendly React UI. 
Better yet, the solution works with client-side rendering only – meaning developer teams can release secure features faster, while leveraging other advantages of client-side only processing. 
Please read our post to learn more about the

new redaction capabilities.

You can also check out the

audio and video redaction demo

.
Spot the Difference - New Viewing and Comparison Combinations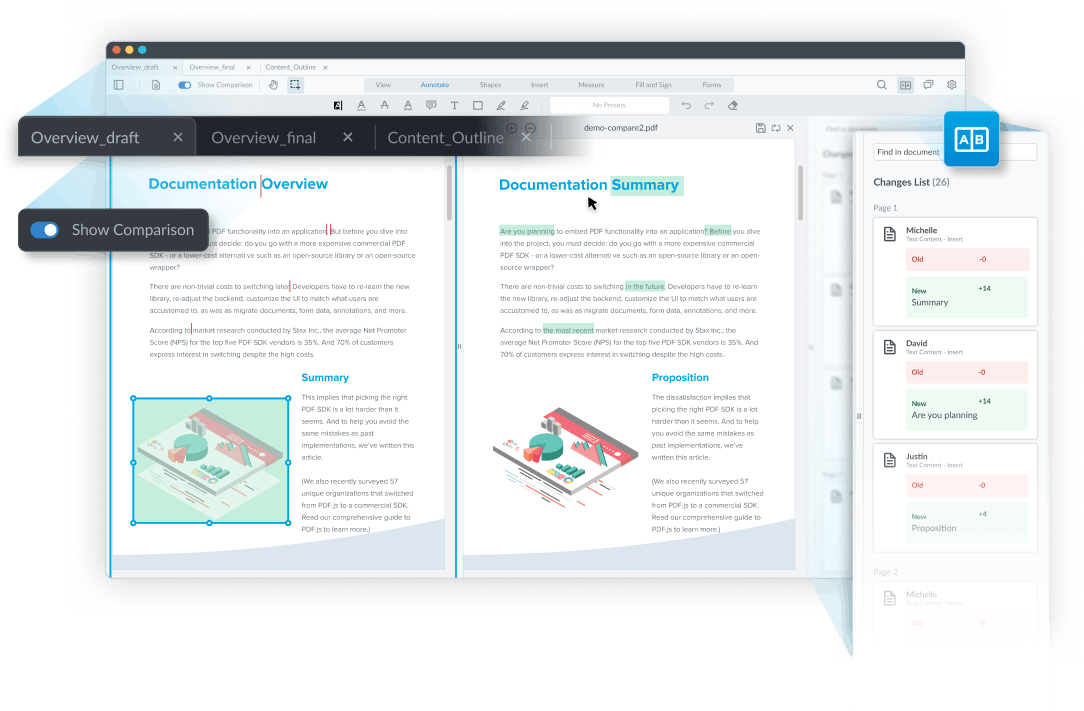 Comparisons of PDFs, Office files and images in the same application are more flexible thanks to two powerful view modes introduced in WebViewer v8.9. 
A new side-by-side mode makes it easy to compare any combination of two documents and images. A new multi-tab mode lets you load multiple documents in multiple tabs at the same time, with only one instance of WebViewer. 
See other ways we've helped teams to review, compare, and reference more content with ease. 
Find out more in our

comparison and viewing article

. 
More Documents Approved in Less Time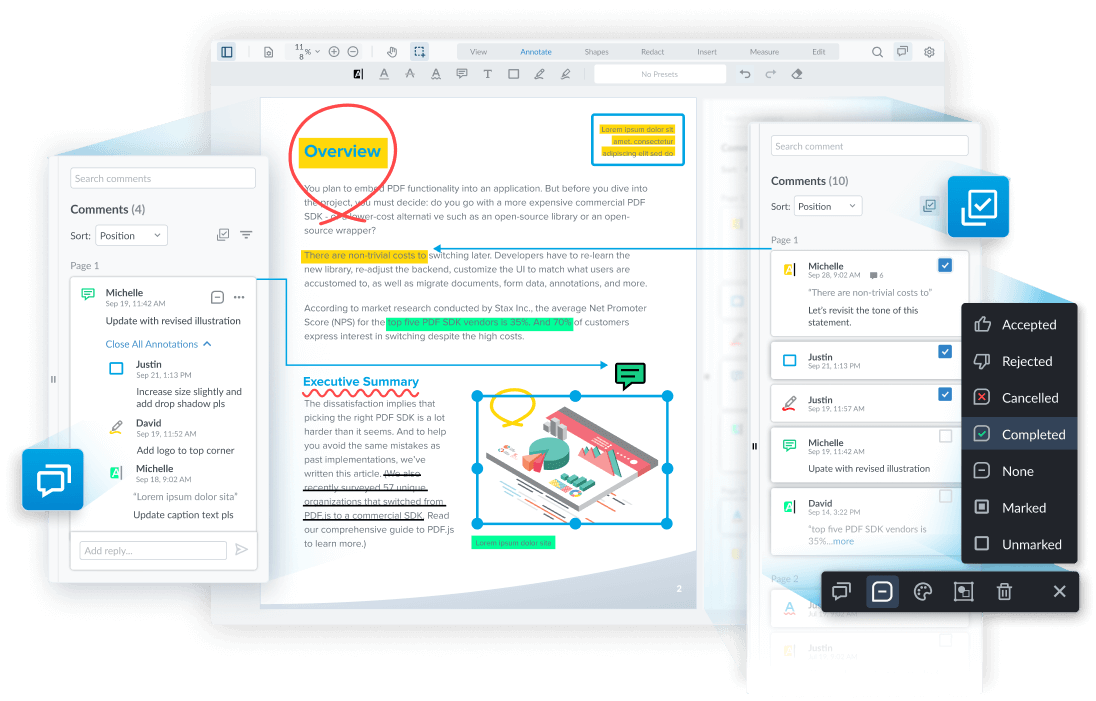 We heard you loud and clear: Our customers' teams spend too much time reviewing documents with annotations and comments. Their work lives just got easier thanks to effort-saving features added in v8.9. 
WebViewer's complete annotation toolset now includes a revamped multi-select option with bulk actions, better annotation attachments, and a new way to group annotations. As a result, teams can better organize their annotations and perform all sorts of review-related tasks in fewer clicks. 
Discover the new

annotation improvements

. 
Custom Signing Made Easy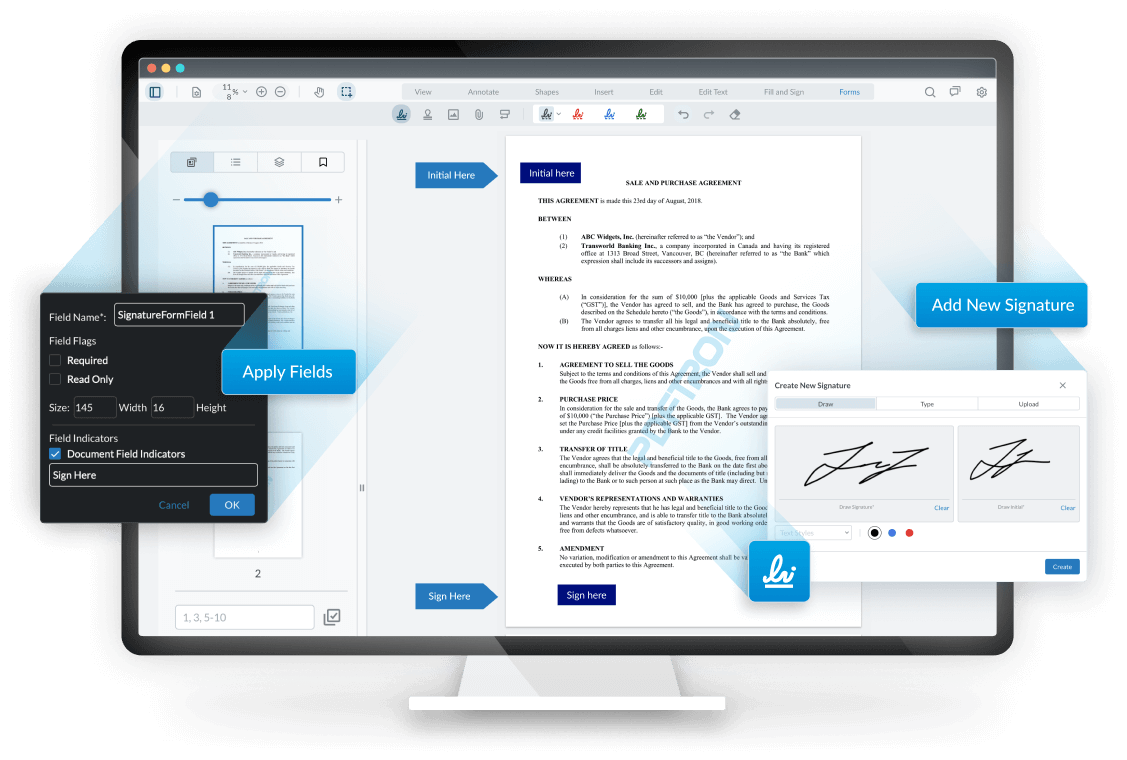 PDFTron already offers robust support for electronic signatures and their secure counterpart, the digital signature. This month, we added further improvements to make it easy for organizations to deploy custom signing solutions into their internal workflows and commercial products. 
To make the e-signing process smoother, we revamped the WebViewer signature and initial picker, and added other changes. Easily the most exciting are the Signature Walkthroughs – inspired by the sticky note flags and labels stuck on paper forms and contracts. New Signature Walkthroughs make it easy to prepare documents for faster signing. 
Learn more about new

Signature Walkthroughs

and other signature additions.
WebViewer BIM - Streamlining AEC Industry Projects
Update - 2022-10-18: WebViewer BIM is now live for you to try today. Check out the

documentation

for get-started steps. See it in action in our

web BIM showcase

.

WebViewer already makes it easy to collaborate on 2D PDFs, MS Office files, images, videos, and websites. And with the launch of the new WebViewer BIM solution, we bring you an exciting new dimension to the user experience.  
With the new WebViewer BIM set to launch this October, Architecture, Engineering, and Construction projects are about to get more streamlined. Teams will be able to collaborate on interactive 3D designs in a familiar UI that supports WebViewer's extensive markup and commenting tools. Saved viewpoints, which are shared perspectives of a model, speed up design issue resolution, while retrieval of building information also just got easier; users can find key metadata without searching through extensive project documentation by visiting a customizable object properties panel.  
New BIM collaboration features were much in demand among our AEC industry customers, who requested 3D workflow capabilities integrated into their WebViewer-powered applications.  
Stay tuned to your email for news of WebViewer BIM's official launch.
In the meantime, find out more in our

WebViewer BIM post

.
What Should We Create Next? 
We've got many exciting additions planned for our next release as we pursue our mission to change the way the world works with documents and digital content. As always, we're focused on delivering the new features that matter to you, helping developers, their users, and organizations to save time. 
Many new features presented in this post were customer inspired; they would not be possible without insightful feedback from you, the customer. 
So that we continue to bring you the features that matter most, we want to keep hearing from you! Please let us know how we're doing – what you think about the newest features, our new approach to product updates, and what you'd love to see from our next cycle of development.  
Some ways to get in touch: