2019 was an incredible and busy year at PDFTron. The PDFTron team worked tirelessly to help our customers bring innovative PDF, CAD, and MS Office capabilities to their software and to improve the developer experience.
Indeed, we rolled out a myriad of new PDF SDK features in 2019 such as OCR, measurement tools, reflow with images, and CAD conversion. And we made existing features even easier to integrate -- such as real-time collaboration on mobile and pure client-side redaction using JavaScript.
We also broke new ground with state-of-the-art Document Understanding technology, PDFTron.AI, which uses Deep Learning to automate intelligent extraction of structured PDF content such as tables.
With so much happening in 2019, we wanted to distill the most exciting moments, innovations, and accomplishments, and explain how these will help you make your developers more productive and your users happier.
Here's our 2019 in review:
Another Year Serving our Amazing Customers
We are proud to serve and support our customers, whether that's through collaborating on new features, working together to resolve an issue, or helping them to be more successful by sharing best practice tips and advice.
We were therefore thrilled when our customers gave us the highest marks in the industry for service and support, when global management consultancy firm Stax Inc. performed independent research into the PDF SDK market on behalf of Silversmith Capital Partners as part of its investment due diligence.
Stax surveyed 197 PDF SDK adopters, enterprise and OEM customers, as well as industry specialists. And it found PDFTron customers to be the most satisfied with the highest Net Promoter Score of 62 -- considered "excellent" -- compared to an average of 35 across the top five PDF SDK vendors.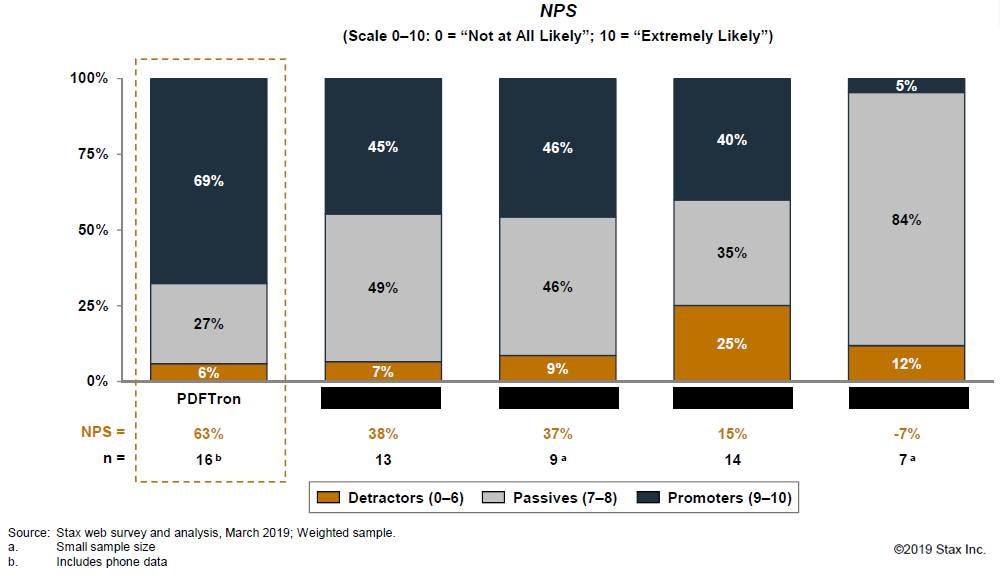 NPS is calculated by first asking customers, "How likely are you to recommend this company or product on a scale of 0 to 10?"
PDFTron customers also reported the lowest desire to switch solutions among those of the top five PDF SDK vendors.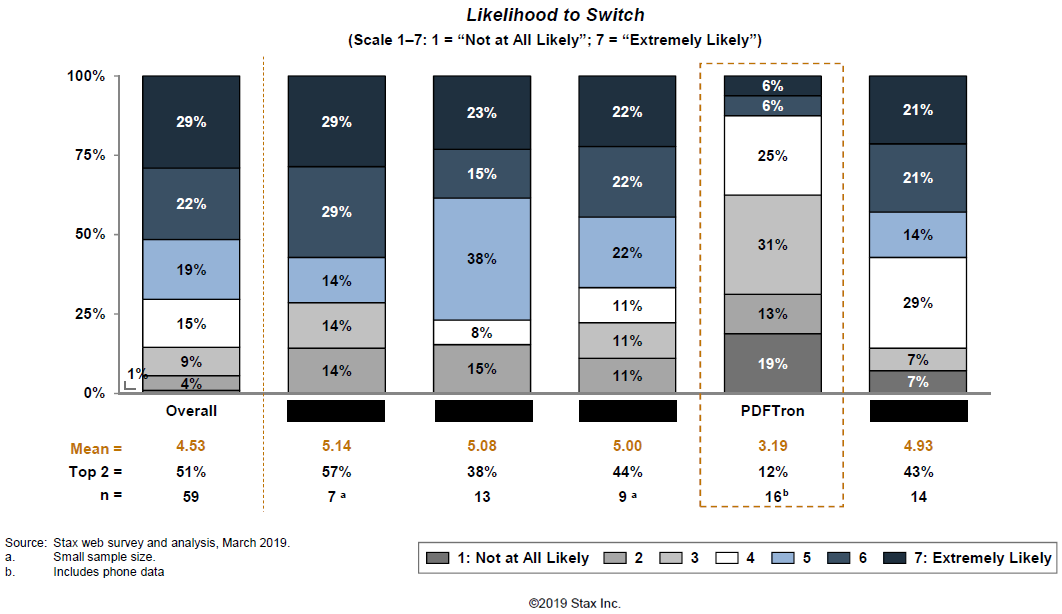 We want to thank our customers for their resoundingly positive feedback, as it inspires us to work even harder knowing we're on the right track.
$95 Million Invested in PDF Document Technology
Last May, Silversmith Capital Partners, a tier-1 Boston-based private equity firm, led a CAD$95 million growth investment into PDFTron. And now with Silversmith's backing, we're positioned to deliver unprecedented value to customers.
Expect accelerated product innovation, especially in areas such as document understanding and 3D PDF, as well as with your CAD and MS Office documents.
PDFTron is also already known for its phenomenal support directly from our experienced developers who built the PDFTron SDK. Expect this support to get even better while the company scales in all directions.
And as we work to transform the way the world works with documents, we will seek to provide even more value through partnerships with third-party companies in North America and Europe.
PDFTron Ranked #1
From a small 2-person startup in 1998 to one of the largest growth-stage tech financings in Canada, PDFTron has come a long way. 2019 will be looked back upon as the year when PDFTron emerged as the market leader, when Stax Inc. found PDFTron the #1 choice for a commercial PDF SDK .
Other Stax findings about PDFTron include its high technical competency relative to the competition, its superior configurability, and what are widely considered its leading offerings in the PDF SDK marketplace.
Rapid Growth
Over the course of 2019, PDFTron grew across a variety of dimensions. We welcomed many new OEM, government, and enterprise clients.
New Customers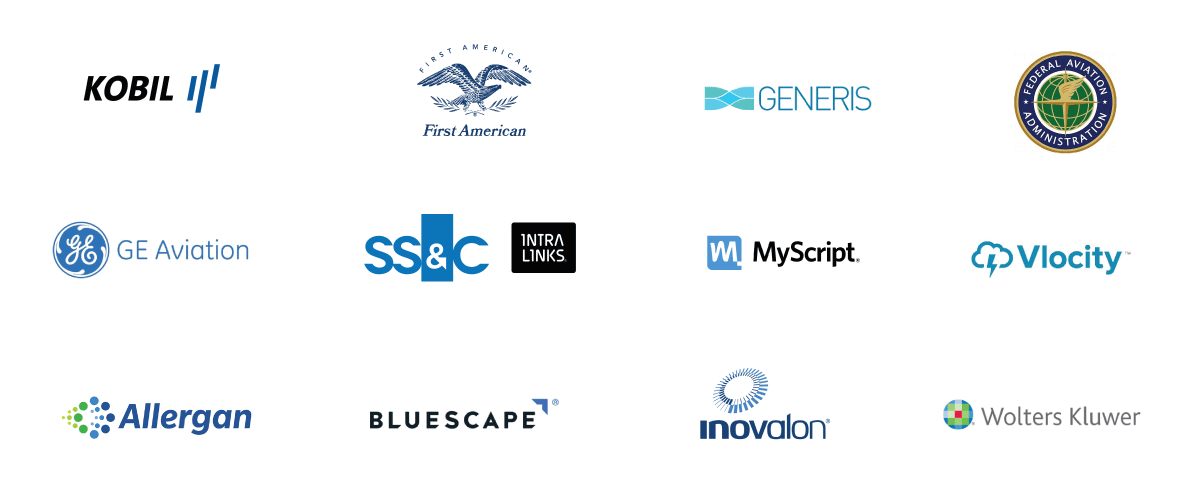 XODO -- 10+ Million Unique User Downloads
XODO, the completely free (including ad-free) PDF productivity app powered by the PDFTron technology stack, also experienced a significant year, exceeding 10 million unique user downloads and finishing 2019 as -- once again -- the top-rated PDF viewer, editor, and annotator on the Google Play Store.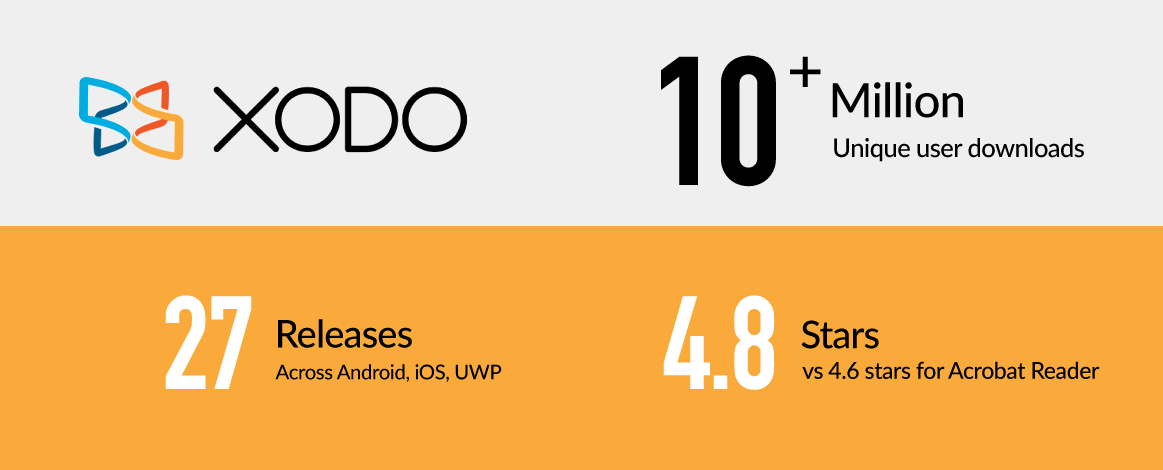 Innovations
In 2019, we were also delighted to expand upon our rich history of innovation, adding yet more products, features, and capabilities to our cross-platform offerings.
PDFTron.AI
For example, we introduced ground-breaking PDF table extraction technology, PDFTron.AI . PDFTron.AI leverages deep learning to achieve state-of-the-art recognition results across all public test suites for PDF table extraction -- with future application in areas such as next generation search and document reflow.
Stay tuned for more solutions related to document understanding, or get in touch with us regarding your requirements.
Here is just a sample of what else our team created last year:
Other New Products
New Features
WebViewer
Android
iOS
UWP
Server & Desktop
DX Improvements
We also optimized the developer journey on our website for an even better developer experience -- adding a sleek new web UI, a revamped documentation structure, and thousands of new guides.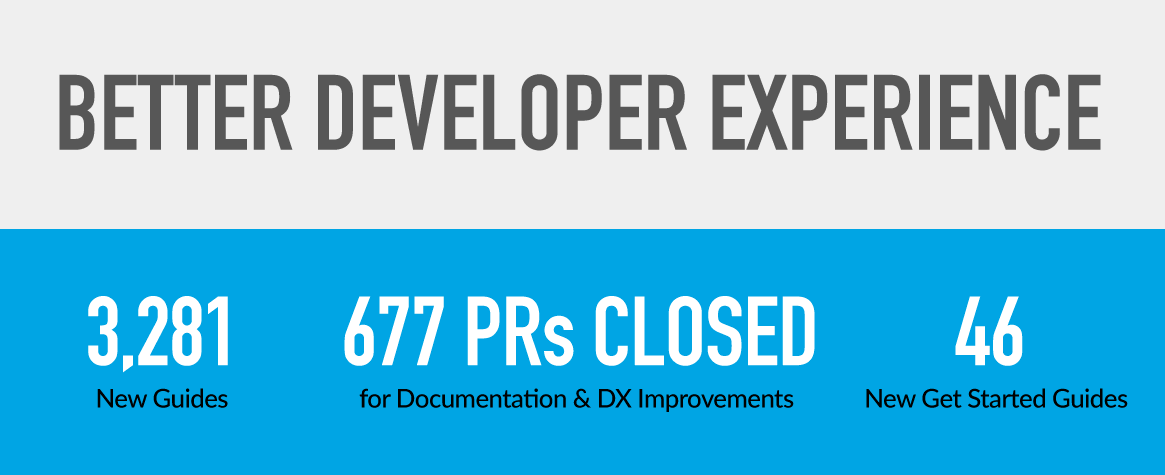 Must-see Content
Our company blog featured a steady stream of quality how-to's and well-researched evaluation guides designed to promote success. Here are 2019's most highly recommended reads:
Additionally, the PDFTron team hosted a dozen live webinars where customers could get their questions answered and see how the PDFTron SDK would work for them.
Inside PDFTron
To support the needs of a rapidly growing organization, we made many major internal changes. We recently added more leadership to our management team of 16 people, along with more all-hands meetings. And we'll continue investing in our office environment, like the updates we completed in early 2019 including furnishing all workspaces with ergonomic standing desks and Aeron chairs.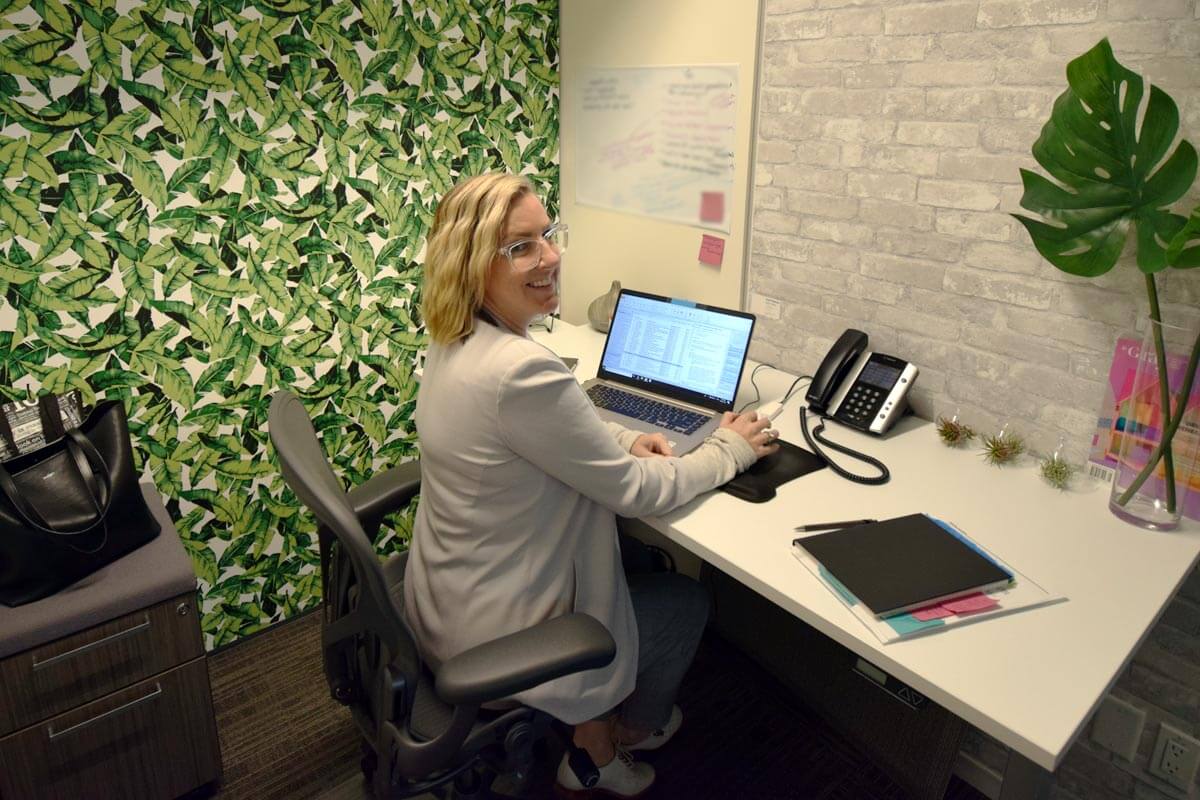 Culture and Community
But while the PDFTron team worked hard, they still enjoyed a variety of company-hosted socials, outings, lunches, and gaming events across the year where they could team-build and connect.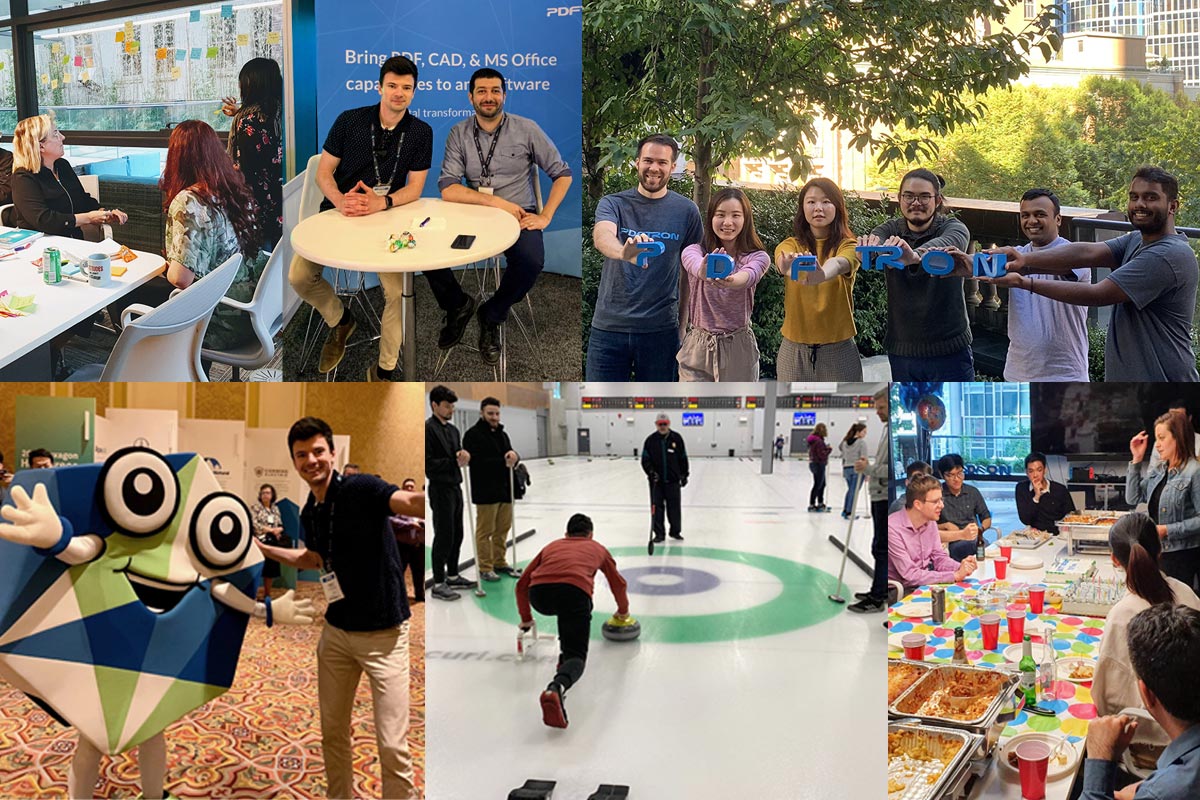 For example, we marked Mental Health Awareness Month in May with a host of initiatives from the "plank challenge" to stretching sessions, as well as a donation drive for the Vancouver Crisis Centre , which stopped by at PDFTron's HQ to present on wellness tips & advice and to say thank you.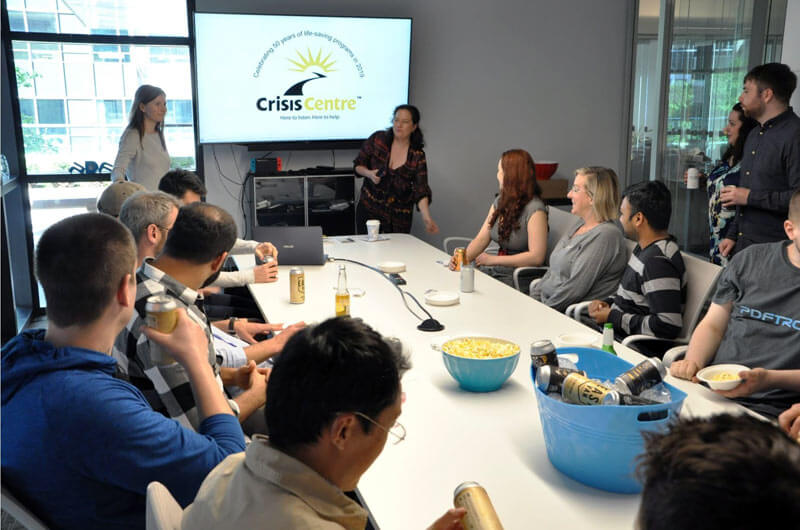 We gave back to the local community by supporting aspiring young developers & designers at the Richmond, BC, cohort Game of Apps championships, where our CEO presided as a judge.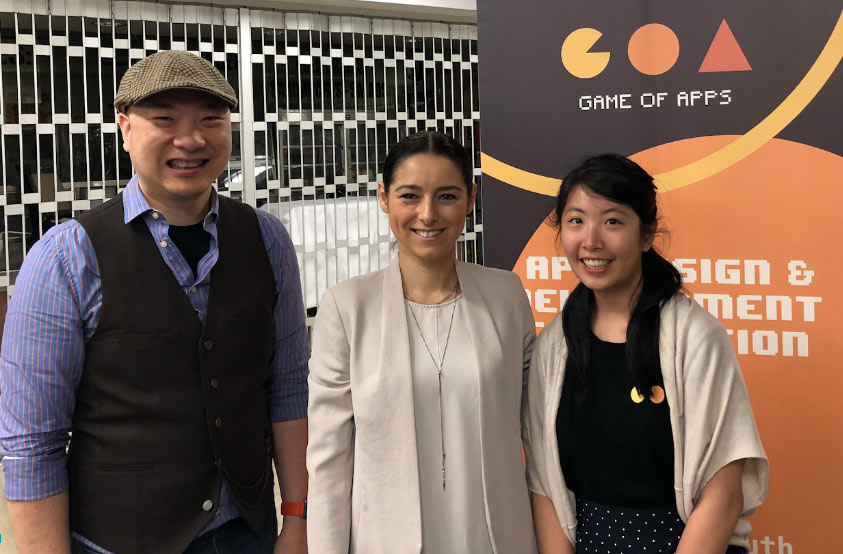 Left to right: Roland (founder of GoA), Catherine (our CEO), Janice (PDFTron designer).
Finally, in December, we closed an outstanding year with a show of gratitude, selecting three worthy charitable causes from around the world and then letting our customers decide whom we'd donate to.
Industry Participation
PDFTronners likewise participated actively in the PDF industry and broader tech community throughout the year. Our CEO once again served on the PDF Association Board of Directors, while PDFTronners travelled around the world to share their knowledge and expertise at industry events, including this year's Electronic Document Conference in Seattle .
Awards and Recognition
We're extremely proud of our talented team and all their accomplishments -- and are honored to be recognized for our company achievements. Here are some defining 2019 recognitions:
Thank you for an Awesome 2019!
For our next phase of growth, we're excited about what the future holds, and for what upcoming disruptive innovations will shake up and transform the document industry.
Customer sentiments and insights will be as important as always in helping us plan these next steps -- like deciding what interesting new PDF SDK features and capabilities to roll out next.
So if you have any feedback, ideas, or questions, don't hesitate to contact us . We'd love to chat.