We are pleased to introduce version 6.8 of PDFTron for iOS. We are have now offered the iOS PDF SDK for over 7 years, and are excited as ever to keep pushing things forward.
This release includes availability via Cocoapods, a new annotation style picker, new APIs for customizing the UI Tools , iPhone X support, improved Swift support, and more.
Cocoapods integration
PDFTron is now available via Cocoapods. This makes it easier to integrate and easier to update. Please read our integration guide for all the details.
A new annotation style picker
With this release, we have added a single control which the user can use to change an annotation's color, thickness, opacity, etc. It includes a preview pane to show what the changes will look like, and also adds an attractive new color palette.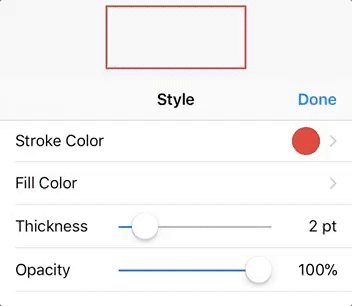 We plan on adding to the capabilities of the style picker in upcoming versions, so stay tuned.
UI tools customization APIs
PDFTron's UI tools are open source, allowing for complete control and customization. However for simple customizations it is often easier to customize via APIs, because it makes it easier to update to new versions and is faster to implement. With that in mind, with this release we have started to add new APIs to customize the behaviour of the built in UI controls.
Check out the new APIs in our tools customization guide .
Improved Swift support & Swift samples
We've added nullability annotations to the tools APIs, which improves delegate method implementation because implicitly unwrapped optionals are no longer passed down.
We have also released Swift versions all of our cross-platform samples. They are available online as well as as part of a new Swift Miscellaneous Samples app. This sample code includes examples of adding images, replacing content, optimizing PDFs, making low-level PDF changes and much more. These samples will make adding the same or related functionaltiy in your Swift app a snap. And because PDFTron is a cross-platform SDK, these samples are nearly identical in all of the platforms and languages we support .
Check out the iOS cross-platform samples .
iPhone X support
Both the UI Tools.framework and main SDK PDFNet.framework have been updated to support the iPhone X and future devices that have safe/unsafe areas.
And more...
For a full list of changes, head over to our changelog for PDFTron 6.8 for iOS .
We hope you enjoy the improvements in this release, and as always feedback is greatly appreciated. Please don't hesitate and contact us if you have any questions or suggestions. We also have many exciting new features planned ahead, stay tuned.