Our

PDFTron iOS SDK

continues to grow -- in leaps and bounds! In this blog, we combine news of the latest changes in versions 9.2.2 and 9.2.3, each improving the iOS SDK experience for developers and their users. These releases focused on enhancing the viewing and annotation, with additional polish on tools a top priority for us.

Read on to find out what we've been up to.
Typed Signatures
We're pleased to help simplify life via new Typed Signatures. Signing documents on an iOS device can be difficult; you'll likely have to use your finger to sign, which is awkward and results in an imperfect signature. Typed signatures are now available by default, which means an easy and clear signing workflow. Activate typed signatures by selecting the "Type" option in the signature entry control.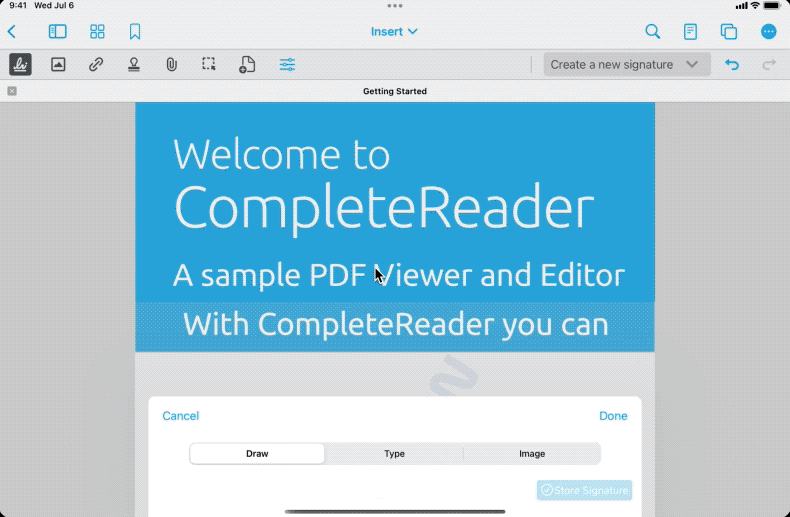 Free Text Alignment
We've added a new styling ability to free text – text alignment. Users can now align text horizontally (left, right, center, and justified) and vertically (top, bottom, and center). This will help your users create content exactly the way they want, for an entire paragraph.
Annotation Snapping
Annotations can now be snapped to align with other annotations or page boundaries. This makes it easy for users to position annotations precisely.
And More
This recaps the most significant additions to our iOS PDF SDK. But it doesn't end here. We've added numerous APIs and other feedback-driven improvements to better support your needs.
Some smaller but still noteworthy improvements include:
The zoom value of a PDF can now be set and retrieved relative to its physical size when printed.

Notes on text annotations can now be viewed and edited in reader (reflow) mode.

Improved font substitution on some files (correctly uses serif fonts in additional scenarios).

The eraser can now be resized and users can save eraser presets.

There is now a "Save" (in addition to "Open") option for file attachment annotations, where the user can select where on disk to save the attachment.

The viewer now supports opening SVG documents (they will automatically be converted to PDF, then opened).
Wrap Up
And that's it! For a complete list of changes in these releases, please refer to our

9.2.2

and

9.2.3

changelogs.
We hope that these additions enhance your iOS SDK quality of life. As always, if you have any questions, don't hesitate to reach out

here

. We're always happy to hear from you!