We are excited to announce version 7.0.4 of PDFTron's iOS SDK !
This release adds reflow with images, an improved button layout, a new text search UI, new icons, and more.
Reflow with images
The powerful Reflow control now displays images inline with the text. Reflow mode can vastly improve the reading experience on mobile devices, and we're really excited to introduce this feature.
Reflow (or Reader mode) displays the content of a PDF in more-readable format, similar to how Reader mode in Safari works for websites. The style, font, and formatting of the original text is maintained, and any text annotations such as highlights or underlines are also shown. With images now also shown in Reflow mode, the user experience is even better!
| Document with images | Reflow with images |
| --- | --- |
| | |
Improved button layout and new icons
To improve user experience, the PTDocumentViewController's default button layout has been updated to allow easy, one-touch access to the Apple Pencil/Freehand tool and the reflow/reader viewing mode. The visibility of these buttons can be controlled with the freehandButtonHidden and readerModeButtonHidden properties on the PTDocumentViewController class.
We have also refreshed the default look of many of the icons with a new, more modern appearance.
| Viewer with old icons and layout | Viewer with new icons and layout |
| --- | --- |
| | |
New text search UI
The text search control UI has been improved and now appears as a search bar with controls above the keyboard. On iPads, the full search results are displayed in a popover. This makes it easier for your users to search for keywords and quickly find any relevant matches.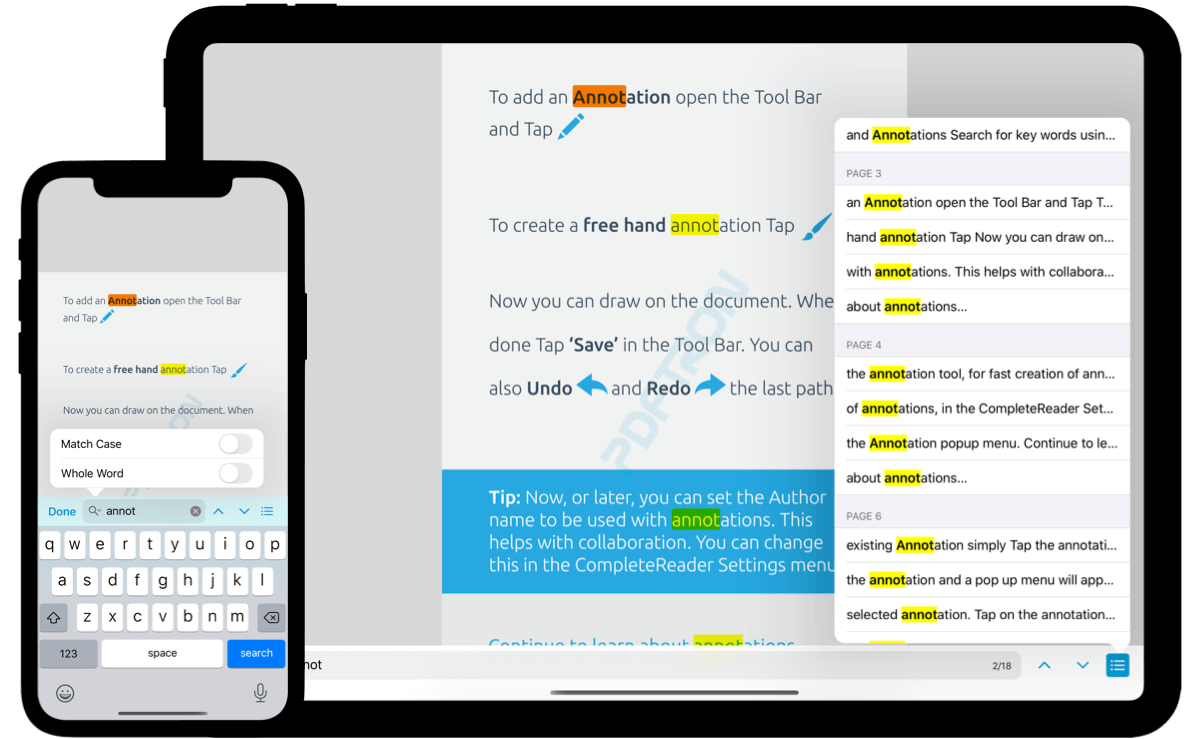 Other improvements
It's now possible to add an image to a document as a new page
The PTEraser now acts as an object eraser
When using the PTTabbedDocumentViewController, the PTDocumentViewController view-mode settings are saved on a per-tab basis
Improved aspect ratio snapping and snapping to perfect shapes
Various other minor fixes and improvements
And More…
For a complete list of changes, including an API diff, please see our change log for a list of all changes in this release.
We hope you like these changes and any feedback is greatly appreciated. Please don't hesitate to contact us if you have any questions or suggestions.
We also have many exciting new features planned for the coming weeks and months, so stay tuned!