We are happy to announce version 6.10.1 of PDFTron's iOS SDK . This release adds redaction capabilities, form field navigation buttons, and new features for architecture, engineering, and construction (AEC) applications including a file comparison UI control, as well as ruler, perimeter, and area annotation tools.
Redaction
We are pleased to introduce support for redaction with this release. The new PTRectangleRedactionCreate and PTTextRedactionCreate tools allow users to easily select text or a rectangular region of the document and then permanently redact the contents of that selection.
Permanently redacting text.
Please see our redaction tool guide for more information.
PDF measurement tools
There are new tools to create distance, perimeter, and area measurement annotations: PTRulerCreate, PTPerimeterCreate, and PTAreaCreate. These allow the user to create measurement annotations and define a translation scale from document space to world space with a variety of different units. This is especially useful when working with architectural drawings for example.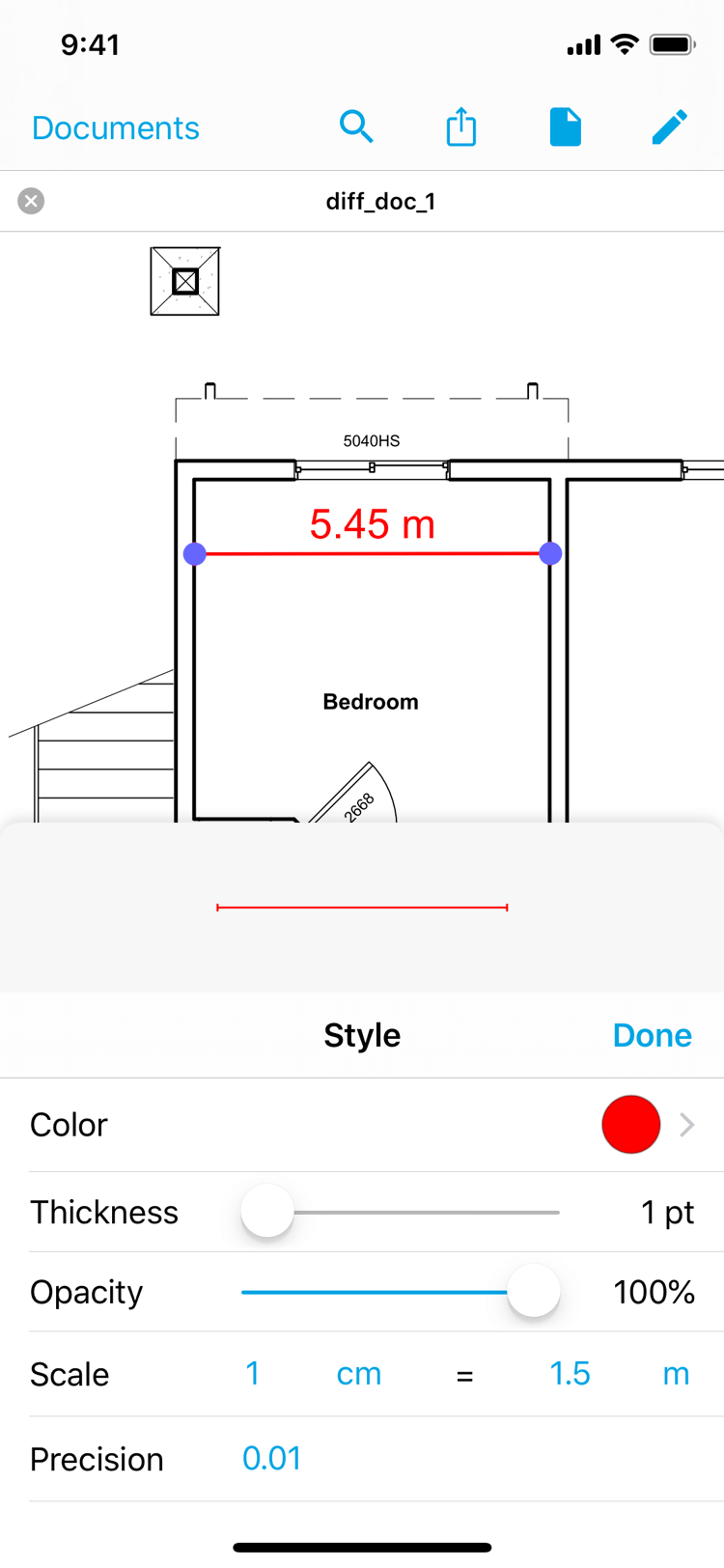 Creating a ruler annotation.
Please see our measurement tool guide for more information.
File comparison control
This release includes a new PTDiffViewController class to compare two files and create a new file displaying the visual difference between them.
The new PTDiffViewController.
Please see our file comparison guide for more information.
File attachment annotations
This release introduces support for creating and opening file attachment annotations. The new PTFileAttachmentCreate tool handles creation of file attachment annotations, while a flexible API handles existing file attachments in documents.
Form field navigation
It is now possible to cycle forwards and backwards through form text fields on a page. The PTFormFillTool provides an option to display buttons above the keyboard when filling in forms to allow the user to quickly navigate between each text field.
And more…
Please see our change log for a list of all changes.
We hope you like these changes and any feedback is greatly appreciated. Please don't hesitate to contact us if you have any questions or suggestions. We also have many exciting new features planned for the coming weeks and months. Stay tuned…