Part 1 of a guide for product managers & leaders to help accelerate their time to market
If you're a software company product manager, you know the deal. You need to get new features to market in step with your product strategy and roadmap prioritization, factoring in evolving user preferences, technology, competitor offerings, and industry trends.
It's a lot to keep up with, and the pressure to deliver can be fierce. That's why many look for a head start and long-term advantage when adding specific capabilities.
With all the building blocks in place and battle-tested, a pre-built solution lets you shorten developer timelines, reduce development costs, and support further innovation in new features and products. It also frees up time and talent so you can focus on R&D and defining your technology's competitive advantage. Let's face it, software development these days is more about connecting the pieces and making them work together than anything else.
In this article, the first in a series on accelerating time to market, we overview how today's pre-built components can help product managers rapidly improve document experiences within an app to delight their users, and win.
Why use pre-built components?
Packages, components, modules or software development kits (SDKs) are a collection of code with all of its dependencies bundled up to enable an awesome document experience out of the box. Building document editing functionalities from scratch can feel like reinventing the wheel. So pre-built solutions lay the foundation for document application development by providing a range of tools to create a superior experience for end-users, all while maintaining your company's unique look and feel.
What Functionality Does a Typical Pre-Built Document Solution Have?
At a glance, all document SDK look the same. They boast similar features and capabilities. However, with a deeper dive, it becomes apparent that they can be broken down into three categories:
Client-side
Server-side
SaaS
Client-side offers superior scalability, performance, and security, mainly when adding viewing, annotation, signing, redaction, and form-filling capabilities to web and mobile apps. In addition, these SDKs often power enterprise workflows like approvals, where users markup, comment on, and reply to comments on PDFs in real-time.
Server-side, in contrast, works best for batch processing of things like invoices, where the user does not need to get involved at all. Of course, editing and rendering can also be done on servers. But this may add server latency to workflows where users expect responsiveness. Delegating real-time processes to the client (when and where you can) ensures a more consistently smooth experience.
SaaS is sometimes ideal for those just starting and testing the waters. Validating your idea with SaaS can be the quickest way to market. But, at the same time, it carries issues with data processing across servers that you have no control of, or the experience is locked and limited to that specific vendor. Plus, users might miss your unique value offering and just go straight to that other product!
While there are always differences from one library to the next, most share standard functionalities, many emphasizing PDF; the format serves as a reliable and cost-effective way to exchange visual information and centralize document feature development.
Near-universal capabilities among libraries today include document viewing, merging files, filling out forms, and converting files to PDF.
Core Commercial PDF SDK Capabilities:
Create PDFs with searchable and selectable text
Enable real-time collaboration with user annotations
Redact sensitive or confidential information
Electronically and digitally sign documents
Add, remove, or rearrange pages
Combine multiple PDFs into one document
Bookmark pages or sections
Add page numbering
Highlight text and add comments
Apply stamps, shapes, and digital ink
How to Avoid Technical Debt
One or another SDK or open-source library can sometimes meet initial requirements. But a library missing key pieces makes designing and scaling a successful solution more difficult, as developers have to work with multiple components or vendors to get the job done. This complexity contributes to delays and uncertainty in a launch and possibly, re-work later. So, to avoid costly distraction, you want to choose the right solution from the start.
The large assortment of features available in a definitive, pre-built solution allows for countless product opportunities and unique ways to utilize functionality in designing document experiences your users will love. Ideally, at your fingertips are all the pieces needed to roll out a product today and support for the features, file formats, and platforms needed for tomorrow, with everything designed to work together and flexible to your workflows and industry.
Accompanying documentation and responsive developer-to-developer support should also serve as a product accelerator. Experienced guidance across the design stage can help you identify the fastest route to a successful launch and in adding additional key features.
Case Study: How SS&C Intralinks Builds Advantage
Here's how a successful design-led product strategy leveraging pre-built components can look in practice: SS&C Intralinks pioneered the Virtual Data Room (VDR) for secure file-sharing, used by M&A teams on either side of the bargaining table to negotiate deals efficiently.
In 2020, the company sought to enrich its web-based offering with true PDF redaction. This would take years to fully develop in-house. So to maintain its reputation as a VDR visionary, Intralinks sought out a technology partner that would let it leapfrog initial development hurdles and the competition.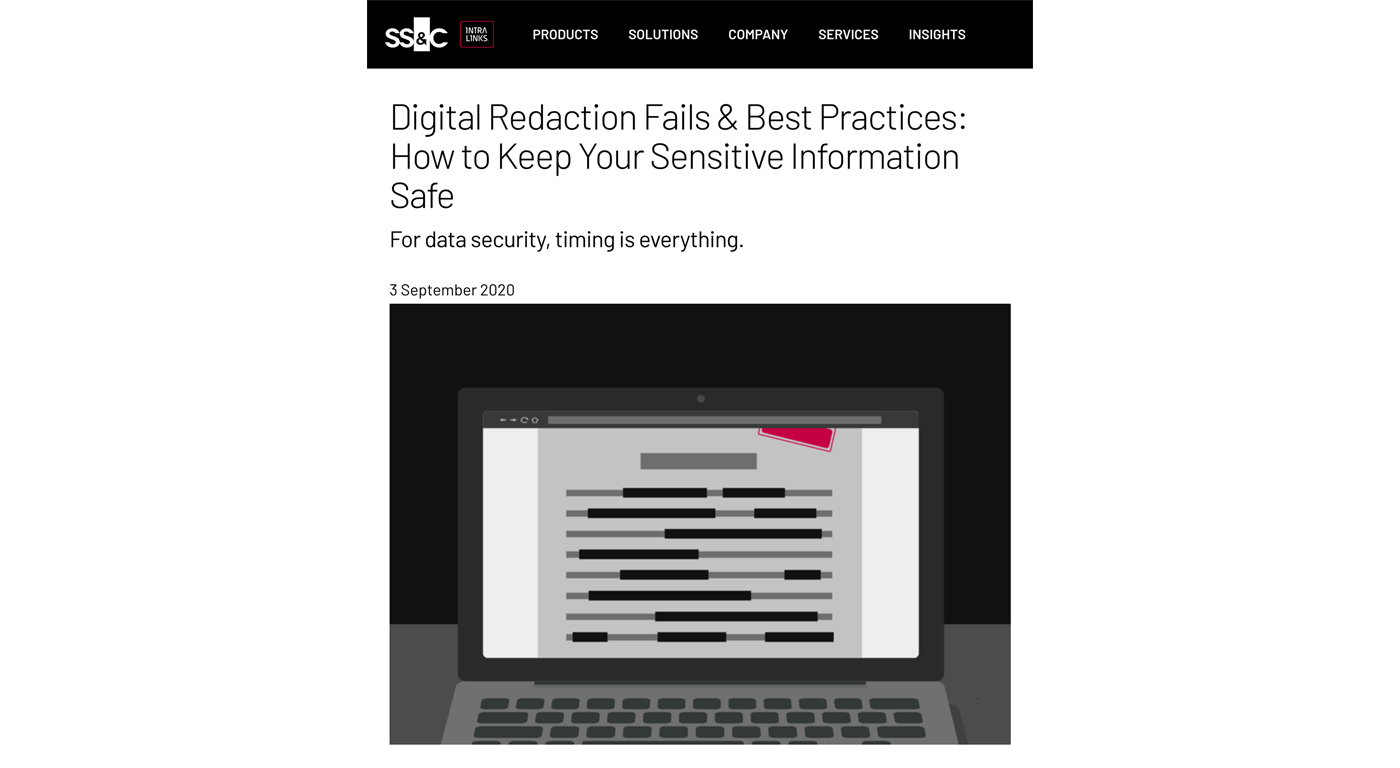 SS&C Intralinks partners up to bring professional, web-based PDF redaction to VDR
Intralinks' SDK solution, with its rich client-side and server-side APIs, provided the ideal foundation for the rapid launch and iteration on a unique product idea.
Intralinks delivered its web-based redaction offering in 2.5 months from design start to product launch. The solution then won widespread adoption and user acclaim among its clients negotiating billion-dollar deals and demanding the best in data security.
With powerful text search and extraction also from its technology partner, Intralinks could go on to add further capabilities, including state-of-the-art AI, thus offering unique benefits to end-users seeking lightning results.
How Intralinks leverages PDFTron in AI-powered redaction of PDF and Office files.
Conclusion: Endless Possibilities, Rapid Innovation
To summarize, below are examples where a definitive document solution provides leading benefits with regards to product development:
Collaboration across multiple document types (PDF, Office, image, CAD, etc.)
Intelligent reading order text extraction to power ML/AI workflows, searching across multiple documents, and intelligent redaction
Digital signing workflows with multiple signers and validation to ensure the document is not tampered with
Form filling, form placement, pre-population and extraction
Template generation and document automation
Encrypting and securing content across multiple platforms
Providing users with a document editing, collaboration UI in any framework, or a platform
We're just scratching the surface of what you might do, because the possibilities are virtually endless. Today's pre-built document solutions extend far beyond just PDF files; they're changing the way people work with digital content. For example, a content collaboration SDK today can include features to let users review audio, video, and even interactive 3D models -- in the same UI they'd use for conventional PDF, image, and Office files.
Bottom Line
Your users probably don't give a hoot what file type or components they use to work with content. They just want all the tools to get the job done at their disposal and easy to use. And a definitive, pre-built solution can help you satisfy that demand and future feature requests while eliminating time wasted re-inventing wheels, building features everyone else already has.
Further Learning
Navigating through information online can be challenging because most document SDK-related content is highly technical and geared towards software engineers -- which is great for developers but guarantees glossy eyes for anyone with less of a developer background or more focused on assessing business advantage, rather than technical capability.
This and upcoming articles aim to break away from the usual developer content by providing the knowledge and insight you need to make the most informed document SDK decisions for your company. In addition, we'll be updating this blog with additional chapters to this series on how to rapidly prototype, launch, and iterate on a product using a document SDK strategy!