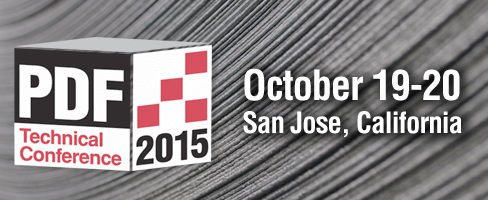 PDFTron Systems Inc. will be sponsoring and speaking at the PDF Technical Conference 2015, held October 19 - 20 at Adobe Systems in San Jose, California. We will be presenting two sessions, "Introducing PDFNetJS: the first complete PDF toolkit for the browser" and "Semantic content recognition in PDF, and what's next". PDFTron's CTO, Ivan Nincic, will also be on the conference's closing panel discussion "PDF as a Platform - the Challenge and the Prize".
The PDF Technical Conference is aimed at developers, product managers, and other technical professionals encountering PDF in their work. Consisting of educational and sponsored sessions presented by experts in the PDF field, attendees will leave with a greater understanding of PDF's functionalities, how to use PDF's, and the future of PDF. The conference is hosted by the PDF Association, the non-profit trade association for software developers that work with PDF.
In our session introducing the latest addition to PDFTron's web-based technologies - PDFNetJS, we will be exploring the new possibilities of in-browser PDF processing, including PDF viewing, annotation, form-filling, file conversion, and more. Our educational session on semantic content recognition in PDF will examine the state-of-the-art in the area and provide some suggestions on how to advance the field, to provide opportunities for leveraging this in the many possible applications ranging from accessibility support to reflow.
In addition to PDFTron's sessions, the conference will cover a wide variety of subjects, including mobile devices, digital signatures, metadata, what's coming in PDF 2.0, and more.
Interested? Find more information about the conference, including the complete conference schedule.