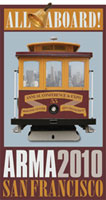 PDFTron Systems Inc. will be present at the 55th Annual ARMA 2010 Conference & Expo to be held November 7-10, 2010 in San Francisco hosted by ARMA International, the authority on records and information management.
The ARMA International Conference & Expo is the premier educational event for the records and information industry, drawing more than 200 exhibitors and over 4,000 information management professionals from around the world for unparalleled networking and education around important industry products and services. For more information about ARMA International's 55th Annual Conference & Expo and to register, visit www.arma.org/!
Visit PDFTron at the PDF/A Competence Center Booth #220
PDFTron's team will be present at booth #220, representing PDF/A Competence Center, the industry group dedicated to promoting awareness and adoption of the ISO standard for long-term document archiving in PDF/A format (ISO 19005-1).
As with anything that relates to PDF, PDFTron has been following the PDF/A specification ever since its inception and is an active member of the PDF/A Competence Center. PDFTron products — PDFNet SDK and PDF/A Manager — are compliant with the ISO PDF/A standard and the PDF/A Isartor Test Suite, by providing a 100% validation accuracy and an above 95% conversion accuracy.
PDFNet SDK has been acknowledged in the industry as one of the most reliable and complete PDF components, with support for all PDF Standard revisions, from PDF 1.0 to the latest version of PDF (ISO 32000), as well as ISO PDF/A (ISO 19005-1), including both PDF/A-1a and PDF/A-1b versions. Using PDFNet, developers can flexibly implement and create stand-alone, cross-platform and reliable commercial applications that can generate, manipulate, view, render and print PDF and PDF/A documents, as well as convert any printable document format to PDF, XPS, EMF, or SVG.
PDF/A Manager is a specialized PDF/A (ISO 19005-1) validation and conversion software, available as an easy-to-use command-line tool and also as a software development toolkit enabling integration with client and server based applications.
PDFTron is excited to support the PDF/A Competence Center in its strive to promote awareness and adoption of the PDF/A format helping ensure that that digital content being archived today will be accessible far into the future.
To pre-arrange a personal meeting with us at the ARMA Expo, simply click on the following link to send us an email: Meet with PDFTron at the ARMA Expo.
We look forward to meeting you in San Francisco!