Today we are very excited to introduce version 7.0.1 of PDFTron's Android PDF SDK . This release includes: a new digital signature flow for certificates, a new form field creation toolbar, updated UI components, and much more. This blog post will go through the major changes in 7.0.1. For the full list of changes, please head over to our changelog for PDFTron 7.0.1 for Android .
Digital Signature Certificate Picker
The new digital signature flow allows your users to choose their signing certificate and credentials when digitally signing a PDF document. Here's a short preview.
Additional descriptions have also been added to the signature information dialog to help your users review existing signatures.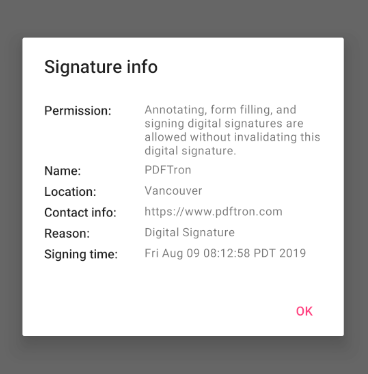 You can learn more about the new digital signature flow here .
Form Field Creation Toolbar
Form field styling and creation is now streamlined by using the form toolbar, an easy to access Android toolbar that allows your users to create form fields on the fly. In addition, creating combo box and list box widgets is now possible by using either the quick menu or form toolbar.
You can learn more about the new form toolbar here .
UI Updates
To help your users create more precise measurement annotations, a magnifying glass view has been added to all measurement tools.
A number of views have also been updated in this release which include new appearance and animations for the thumbnail slider, page indicator, page navigation buttons , and search highlights .
And More...
For a full list of changes, please see the changelog for PDFTron 7.0.1 for Android .
We hope you like these changes and any feedback is greatly appreciated. Please don't hesitate and contact us if you have any questions or suggestions. We also have many exciting new features planned for the coming weeks and months. Stay tuned...