2021 was another exciting year here at PDFTron. We unveiled several brand new and improved features through dozens of product releases to make your document experience and professional reviews of content better than ever.
To illustrate our most significant updates, we hosted a special edition, end-of-year webinar on December 9th, where we walked down memory lane through our top five new features of 2021, so you can leap into 2022 ahead of the curve.
The webinar, which you can watch here, delved into why we built these features, explained how to access and use them, and showed how some of our top customers are utilizing them.
In this blog, we give you a taste of what to expect from the webinar, including a rundown of the top new features, plus maybe even a bonus one!
1. DOCX, XLSX, PPTX Template Generation
Our new, secure and serverless PDF document generation from Office templates was a unique addition to our platform this year -- and one with several benefits over previous doc gen methods.
Using the component, you can merge data and your templates client-side, quickly and securely. Confidential information is never shared outside your app. The user experience is consistently fast, free of server or network latency created while uploading and downloading files, including larger-sized PDFs. Additionally, this doc gen component comes out of the box with its own built-in Office engine, so you can leverage professional-looking templates designed in familiar Office tools, such as MS Word and Google Docs. And with templates in open Office standards, you get complete control and steer clear of vendor lock-in.
Lastly, the component comes out of the box with additional features to let users view, review, and approve filled documents directly in your application.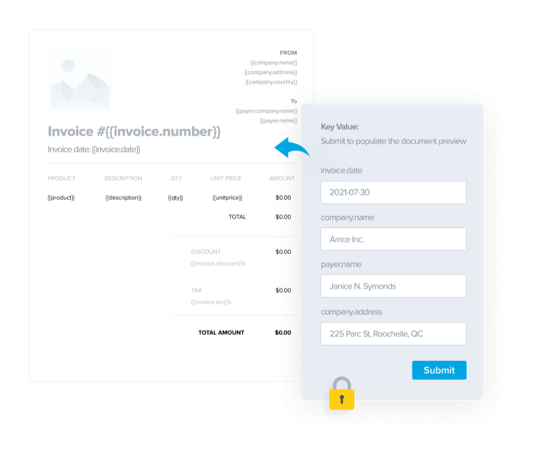 Merge your data and templates client-side, quickly and securely
2. Photoshop, Illustrator, HEIC, DICOM
Our next feature gives your users the ability to render and collaborate on Photoshop, Illustrator, DICOM, HEIC and hundreds more image formats. For example, it enables you to process photos straight from an iPhone with OCR capabilities. Additionally, DICOM, a popular medical imaging format, can be converted to PDF format, allowing medical professionals to annotate and measure X-rays in reports.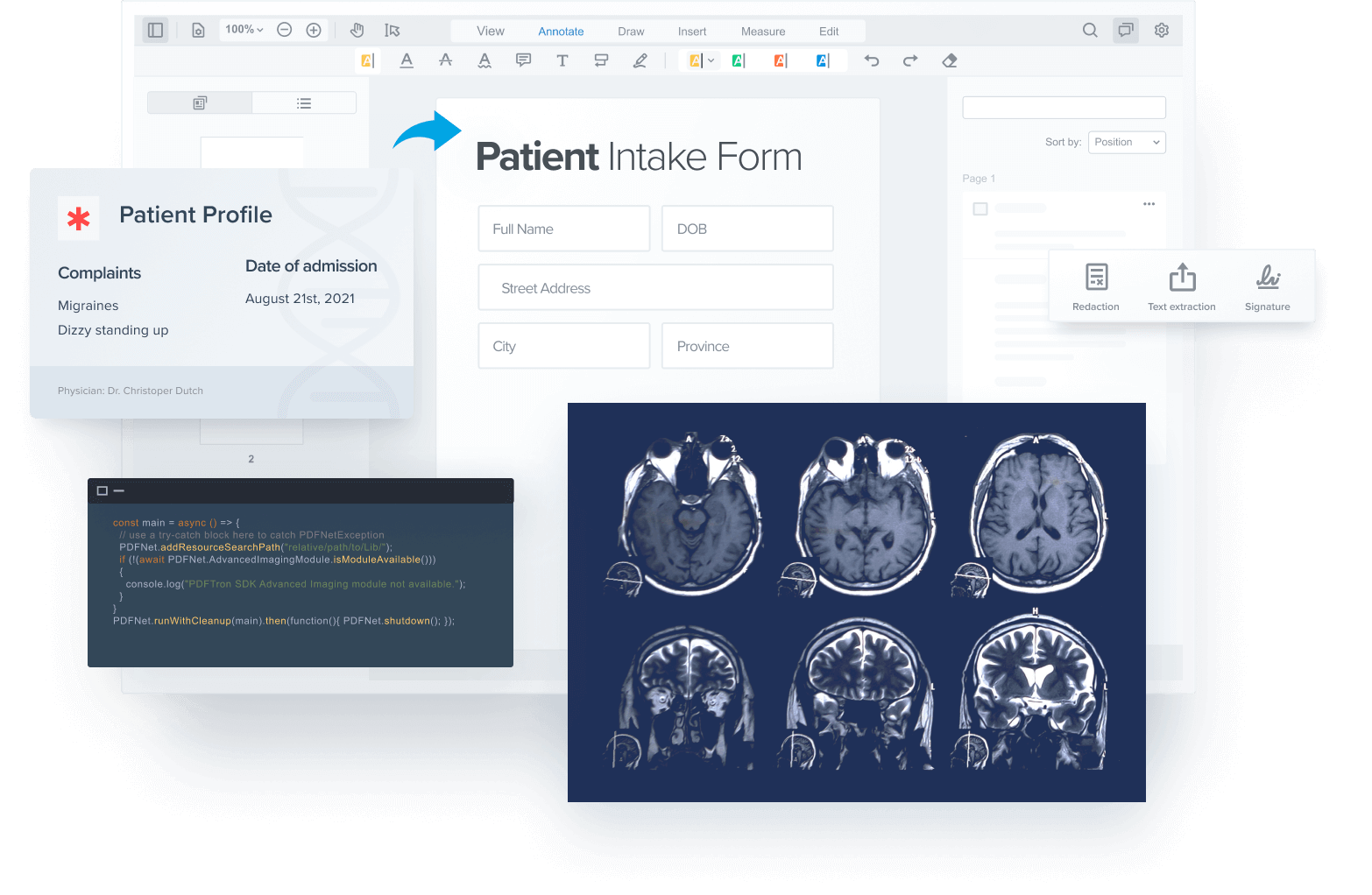 Convert DICOM format files to PDF without relying on external dependencies
3. Search & Redact
This offering, part of our rich, web-based redaction, lets you automate redaction processes with features that instantly search and mark up terms, patterns, and personally identifiable information. Redaction marks can be kept safely in draft mode until the user clicks 'apply redaction.' An inspection is then done at a low level of all the elements present under the redaction annotation. This could include text, image elements, or other hidden details containing sensitive information that may not be visible. After inspection, everything under those coordinates is entirely removed without touching the rest of the document, so the searchability of the document remains preserved. You can also build review and approval processes around redaction.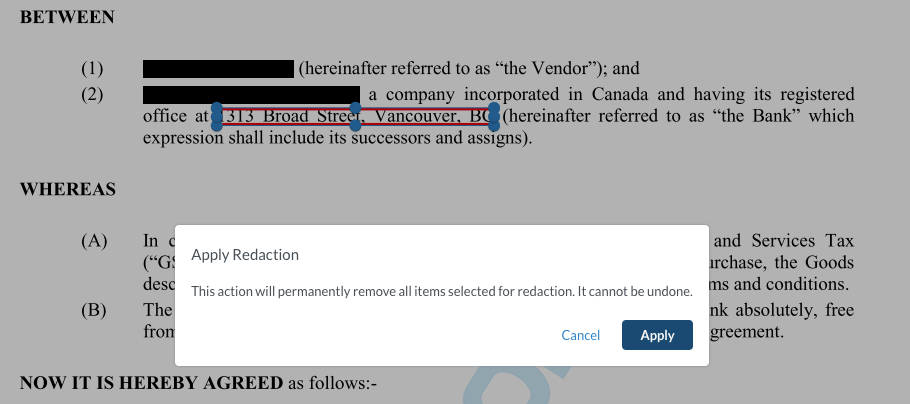 Now users can click to highlight sensitive keywords, strings and patterns for redaction
4. Video and Audio
WebViewer Video brings PDFTron's same rich assortment of PDF and Office file annotations to video (mp3, wav, flac, ogg, and more) in the same web-based UI as WebViewer. It comes out of the box with features expected of such components. For example, frame by frame view, and the ability to annotate on a single frame or frame range. This year, we added a list of enhancements to make the experience even more tailored to the requirements of viewing and collaborating on video. Here are the highlights:
New mobile-friendly navigation and touch-based annotation
Annotation previews for quick search & retrieval of specific annotations
Custom authentication headers for simplified secure integration
Annotation icons for the timeline
Audio waveform visualization to see and comment on the video audio track
Extended view controls to personalize one's view of audio waveform and video
Light mode!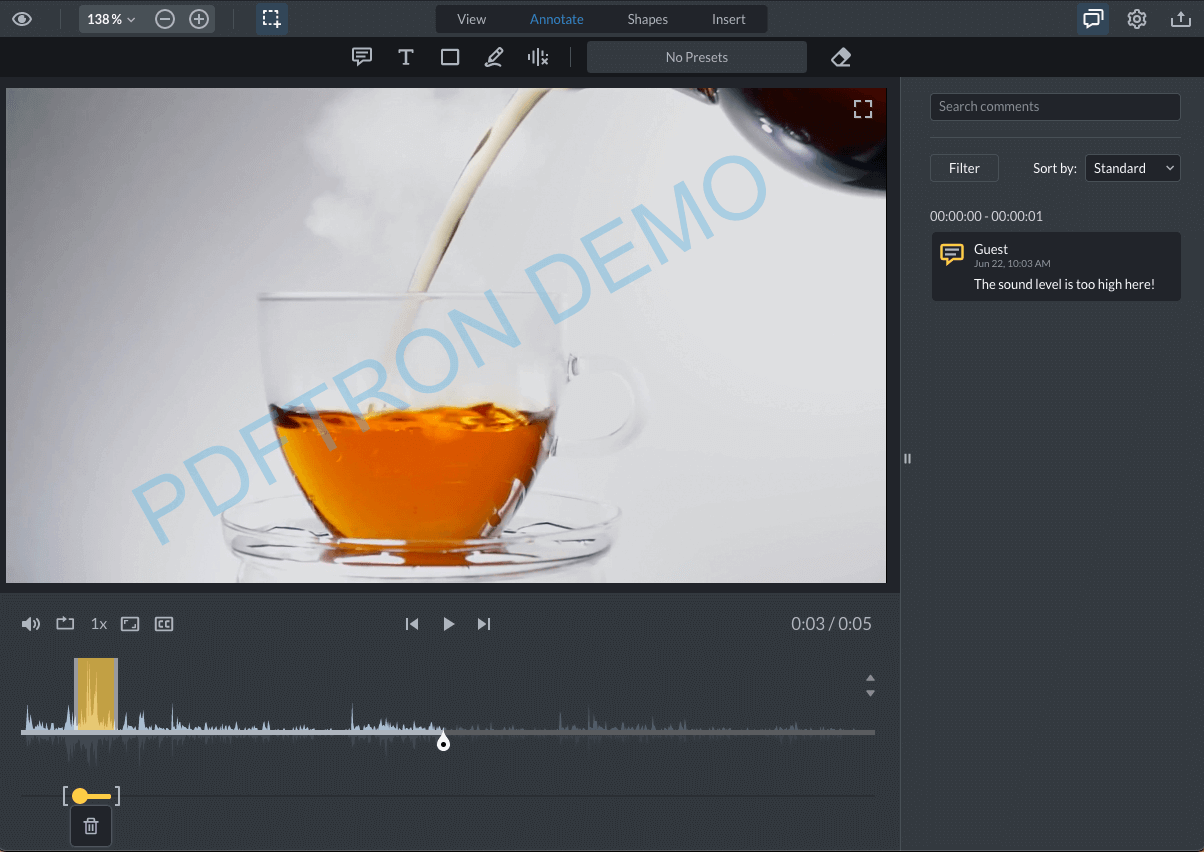 Waveform visualization lets users select and comment on bits of video audio track
5. PDF to Office (DOCX, XLSX, PPTX)
Rounding out our top five list is PDF to Office. This lets you easily add direct conversion to Word, Excel and PowerPoint on any web, mobile, server or desktop software, so users are free to work with content in the way they want, with the tools they prefer. With best-in-class conversion, if you're already licensing PDF to Word, you'll have access to even more formats as part of our SolidDocs acquisition. This feature also has multithreaded automation as you can plug it into Linux, Windows, or Mac OS to quickly convert Office files to PDF, including multiple files simultaneously, with Web-based processing coming soon! And you can do all of this without any MS Office dependencies.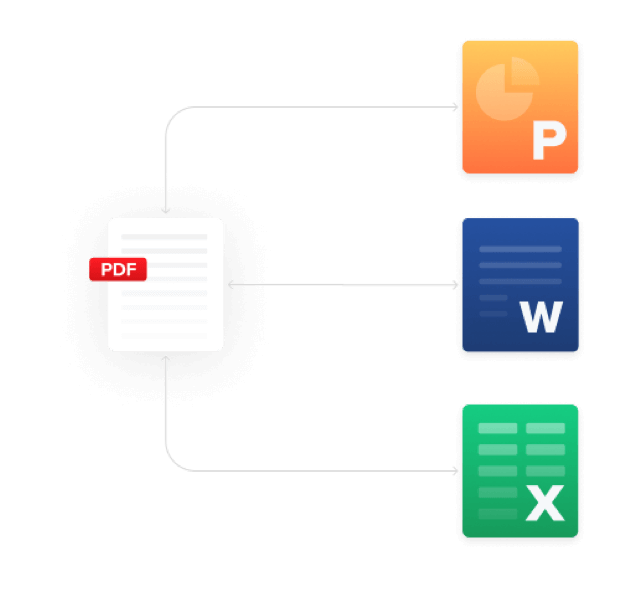 Complete your workflow from PDF to Office – Available on Window, Linux, Mac OS and soon Web
Wrap Up
Be sure to watch the webinar, where we dig deeper into these new features and answer any burning questions you may have. You'll also want to check it out as we revealed a bonus feature not included in this top five list!
With 2021 coming to a close and the new year on the horizon, there are even more new features and updates to look forward to in the coming months. Stay tuned to our blog and social channels for news on new features.
Or, if you want to chat about your requirements, current and future – and our roadmap, don't hesitate to drop us a line. Our product specialists and the engineers who built our solution would be delighted to have a conversation with you.