The document industry is undergoing a fast transformation, and it's clear, we've got a lot of good things to talk about. Our company has seen two significant growth investments in two years, fueling six acquisitions. These have added brand new teams, talent, and technology to our fast-growing core offering and crew, now over 210 "Troners" strong (up from just 40 people three years ago).
As we turn the page on another year of meaningful change, we are excited to take another look back, this time, at our recent acquisitions -- what they bring to our current offering and roadmap for you to benefit from, and how, together with our partners, we're helping customers worldwide to create new products and digital transformation solutions that are uniquely scalable, secure, and easy to use.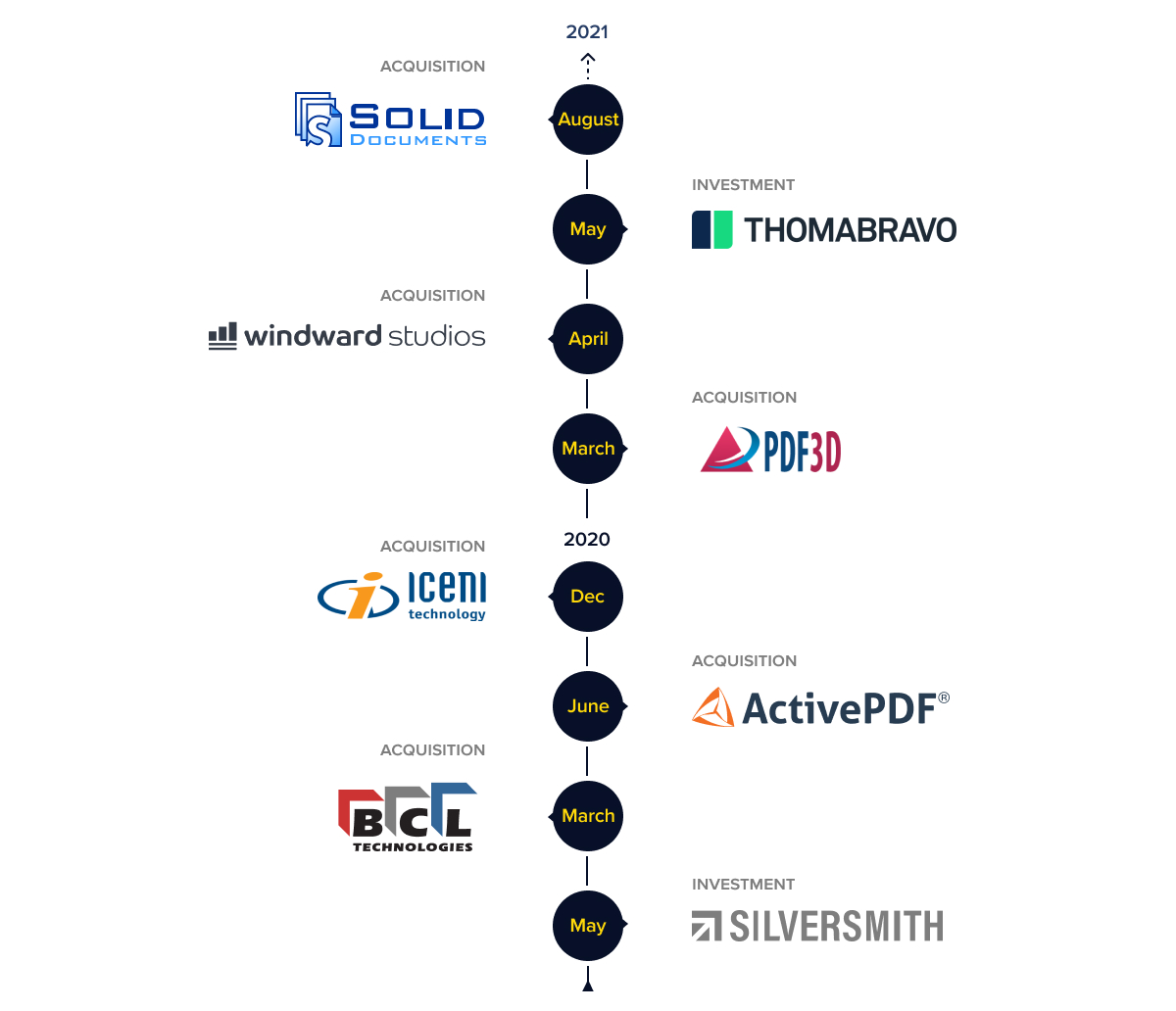 Two investments and six acquisitions in under two years. What does it all mean?
Unmatched Flexibility to Build The Way You Want
The last two years at PDFTron have been busy; we had our very first investment by Silversmith Capital in May 2019 – followed by Thoma Bravo in May 2021.
These two major, strategic investments, and subsequent six acquisitions, have accelerated our vision at PDFTron, to create the world's first definitive platform for building complete digital content processing, document automation, and digital content collaboration solutions that are fully customizable.
Part of this vision is to give you complete flexibility in how you and your users work with digital content, on the web, mobile devices, or desktop, and across various digital content formats, from PDF to audio-video and 3D.
Let's explore how each acquisition partner brings us closer to this vision.
Solid Documents - Leading PDF to DOCX, PPTX, and XLSX
Our latest acquisition, New Zealand-based Solid Documents, is the leading innovator in PDF-to-Office conversion. This process is regarded as very challenging, so much so that leading brands, including Adobe and Foxit, rely on Solid Documents to power their to-Office export functionality.
What Solid Documents brings: the ability to easily add accurate conversion to Word, Excel, and PowerPoint to any software.
This best-in-class conversion is already available as part of our server SDKs, with multi-threading on Windows, Linux, and macOS for fast, high-throughput conversions.
Web-based conversion is coming soon, via WebViewer, to enable accurate, to-Office export right in the browser.
Users will thus be able to review in WebViewer and shift content into Office, to make changes in powerful Office tools to Word documents, slideshares, and spreadsheets, while preserving the layout, look, and feel of said documents.
Windward Studios - Client-Side Document Automation
Next is UK-based Windward Studios. Experts in document automation, Windward provides the ability to intuitively generate documents to over 2,000 organizations, including Avaya, Chase Bank, Cisco, Coca-Cola, Pfizer, Tata Motors, and Volvo.
What Windward brings: The ability for software developers to add dynamic, client-side document automation to their apps in as little as 11 lines of code.
Partnering together, we've accelerated a unique doc gen framework to market. This makes native, dynamic generation fully web native and thus automates the creation of personalized invoices, proposals, contracts, and so on in the browser from any Office format templates built in familiar Office tools.
JSON data is merged into these templates securely at the point of user interaction – client side – leveraging the leading accuracy of the fast PDFTron platform, for pixel-perfect results in seconds.
Did we mention? This component works serverlessly. What that means:
No plugins, MS Office software, or MS Office licenses are required.
Simplified due diligence, since you're not passing sensitive data across a network.
Your user experience is free of any slowness created by network latency or document processing servers under heavy load.
Infinite scalability with no built-in technical limits, or extra fees, on the number of documents you create.
Try our serverless doc gen demo
PDF3D - Web-Based Collaboration on 3D
Provider of one-click conversion from 3D formats to 3D PDF, PDF3D satisfies the needs of many large enterprises, from Airbus to Ikea, for professional components to power feature-rich 3D experiences on interactive models in their various document applications.
What PDF3D brings: Conversion from 70+ 3D file types to a format anyone can interact on right in the browser.
Partnering with PDF3D, we can now render interactive 3D in WebViewer, so you can have users collaborate on 3D documents with the same rich assortment of annotations as for all their PDF, image, and Office files.
You can try our web 3D sample today, and learn more about our 3D-specific capabilities under development, presented on by our Head of Product, Andrey Safonov, at PDF Days 2021.
Iceni Technology - Accurate, Browser-Based PDF Text Editing
UK-based Iceni Technology are innovators in PDF editing and translation software from 60+ languages, and producers of a series of firsts in the field of PDF manipulation (with deep document expertise to match our own decades of experience).
What they bring: leading text editing capabilities for all of your PDF contracts, reports, manuals, and so on.
A frustration with existing PDF editors includes the inability of such tools to preserve original styling and formatting.
Partnering with Iceni, however, we can bring their leading PDF editing accuracy to all platforms, to make for an accurate, Word processor-style editing experience a natural part of your reviews, for example, where users need to make quick changes on the fly, without having to exit the application.
New PDF text editing, paragraph resizing, reflow, and image resizing capabilities are coming soon to our platform. Watch our social channels and WebViewer release blog for news!
ActivePDF - Enterprise-Grade PDF APIs
California-based ActivePDF is a global provider of high-volume and scalable, server-side PDF automation components to 40% of Fortune 500 companies. Notable customers include DocuSign, the US Department of Defense, Paychex, Barclays, and more.
Today, their team and products are part of the PDFTron family, and we work together on realizing a best-in-class experience for internal enterprise use cases.
ActivePDF technology is now backed by the best-in-class performance, stability, and accuracy of the PDFTron platform. You can find ActivePDF low-code PDF conversion, OCR, and manipulation APIs on our website and Download Center, alongside PDFTron's many other, powerful server-side and secure, serverless options.
BCL Technologies - Easy Online Tools & AI-Powered Content Extraction
Last but not least: California-based BCL Technologies. Our first acquisition, BCL brings expertise in content extraction, document conversion, and deep learning.
Today, BCL's groundbreaking, cloud-based PDF manipulation and Office conversion tools are powered by PDFTron's document platform. Access many of these features for free at pdf.online.
In addition, BCL technologists now innovate side-by-side with PDFTron experts on the next generation of document technology, in areas such as document understanding and intelligent content extraction.
Recent inventions with BCL involvement include our AI-powered PDF article extraction and PDF table extraction. These get structured information out of your PDFs, such as text with reading order intact, segmented headers, footers, and article titles, and structured tabular data, to automate away the process of manual extraction, and eliminate associated errors and delays.
Check out our AI-powered article detection and table extraction demos.
Just Getting Started
We've only scratched the surface of everything we're working on at PDFTron, and everything else on our roadmap for 2022. Stay tuned to this space for more information on how PDFTron pushes boundaries with future features and product updates that unlock new ways to work with your digital content.
In the meantime, if you have any questions, don't hesitate to contact us. The engineers who built our product and our product specialists would be delighted to chat with you about your project or other requirements not covered here that we can put on our roadmap.